Welcome to the Multimedia section. Below are links to pictures I have collected from online and some I have taken myself. Enjoy but please do not use the ones I took without my permission. Thanks! Note: All of the game albums that are *'ed are ones I have taken and are not all necessarily of Kansas City Wizards but could also be of opposing teams players.
Kansas City Wizards- In Game Pictures
Kansas City Wizards- Post Game and Off the Field
*9/20/03 vs San Jose: Pre Game, In Game, and Post Game with Landon Donovan*
*10/04/03 vs Colorado and 10/11/03 vs LA*
>>Note: 10/04 vs Colorado and 10/11 vs LA are in the same album to help save space. The description of each picture will tell you from which game it is from. The Colorado pictures are first.
Wallpapers
All wallpapers courtesy of www.kcwizards.com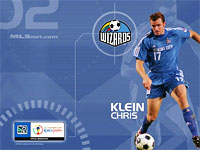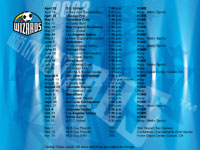 Buddy Icons
To select one of the below icons as your buddy icon, right click and save then set it as your icon on whatever messenger service you may have.

Chris Klein

Chris Klein

Chris Klein

Alex Zotinca

Jimmy Conrad

Nick Garcia

Kerry Zavagnin

Igor Simutenkov
Videos
I have chosen my favorite goals from the 2003 season for you guys to see. Enjoy.